SolarImmersion– A highly efficient  modulation based solar PV hot water system at an affordable price. It diverts 100% of your surplus power you will not use to heat water & works even on cloudy days.
[check_list]
Heat Hot Water with a Solar PV installation Use the free surplus power from solar PV for hot water.
Lower Energy Bills – Gas boiler works far less than normal, helping you to save on energy bills.
Better Return of Investment – Add one more way to recoup your investment on Solar PV – SolarImmersion improves ROI by more than 25%.
Simple to Install – Solarimmersion is simple to install and easy to configure.
Works with current Immersion Heater & Tank – No need to change the immersion heater or hot water tank to use SolarImmersion.
NO THRESHOLD LEVELS – SolarImmersion is a proportional / modulation controller to maximise the efficiency and make sure all the surplus power is diverted with no export to the grid.
MULTIPLE LOADS – SolarImmersion can drive multiple loads, so when the water is hot enough and the thermostat cuts off, a second load could be activated.
MANUAL OVERRIDE/ BOOST FUNCTION – Inbuilt override/ boost facility to turn on the immersion manually if required.
[/check_list]
SolarImmersion- It's Green, It's Intelligent, It's affordable & It helps you to save over £200 per year with solar PV panels.
It's the perfect solution to make most of your solar PV installation & self generated power. Take control of your generated power to save energy and make financial savings. Use the excess energy generated from Solar PV/ Hydro/ Wind Turbine to heat your water for free.
It makes financial sense to use that extra power generated by your solar PV panels to heat water rather than exporting to the grid, as buying electricity and gas from the grid for heating water remains expensive. If you are on feed-in tariff, you will still be paid for the power used to heat the water. Make most of your feed in tariff – use surplus electricity generated from your solar PV installation for hot water and still receive payment for it!
[check_list]
Get hot water using the surplus from your existing solar panels.
Save Money and improve the efficiency of your solar panels
Reduce bills and still get your FIT payouts
Reduce Co2 emissions
Even works on cloudy days
Use the solar panel power surplus in house to heat water using SolarImmersion and prevent the unwanted export of electricity
Doesn't affect solar PV system warranty.
The investment on SolarImmersion could pay itself back in less than 24 months
Designed to last 25 years
Maintenance free with no moving parts
Inbuilt overheating protection
No plumbing alterations required
[/check_list]
High Efficiency & Performance – Use Almost 100% of Surplus solar panel installation energy.
The highly efficient SolarImmersion controller could divert almost 100% of the surplus power to the immersion heater or any other resistive load. The switch can also be re-configured to set the export level from 0 to 100W. Below is the data chart with a 5 W export at a 760 W sorlar surplus power.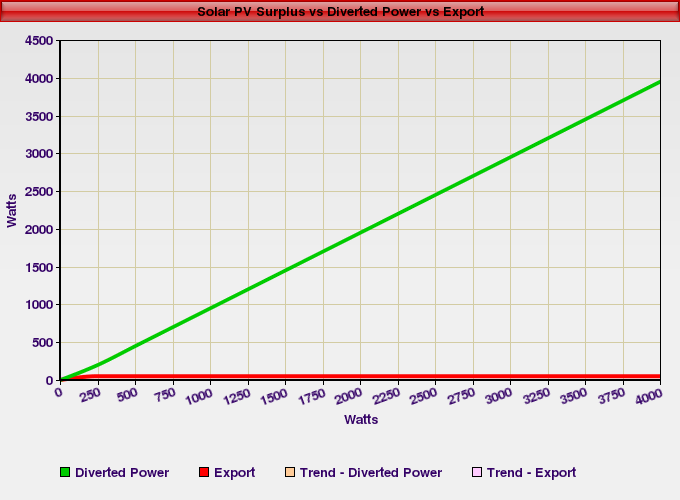 SolarImmersion – A valuable addition to maximise the return from your investment from your solar panel installation.
Maximise the usage of your solar PV/ Hydro/ Wind investment by maximising the energy usage at point of generation and reducing the import/export. SolarImmersion help you to avoid the wastage of energy, control the export and store all  surplus power as hot water.
[button size="medium" link="http://www.bespokerenewablesolutions.co.uk/request-a-quote/" target="blank"] Get a free quote today > [/button]
[thin_divider]